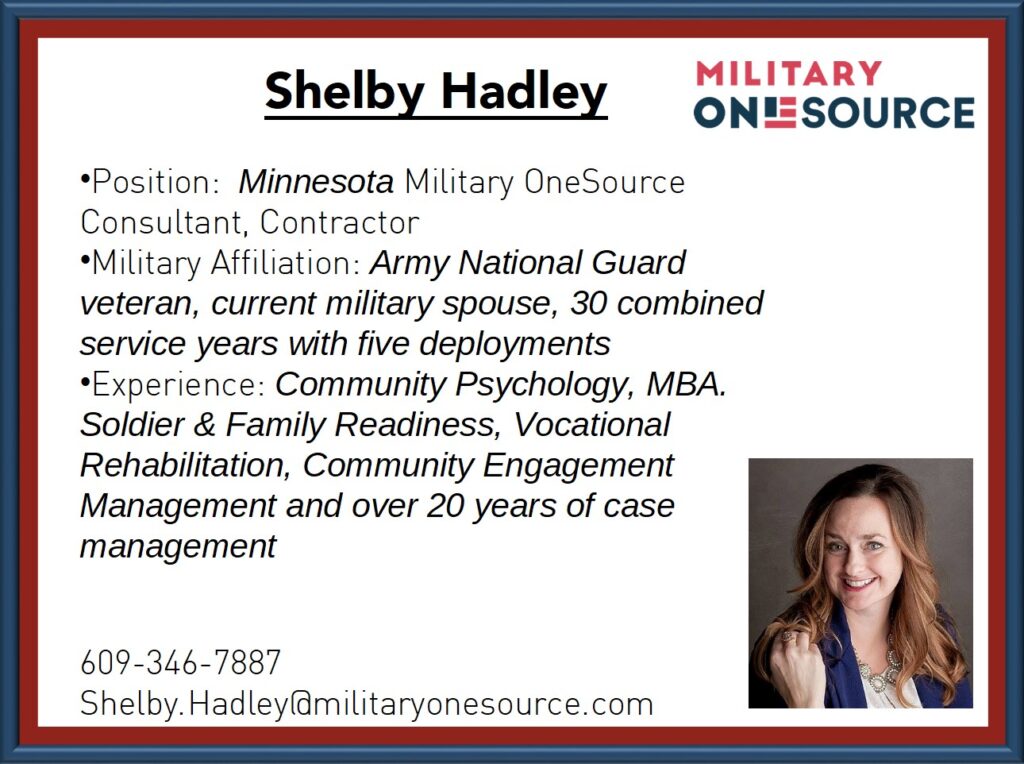 Greetings,
Most of you know me, but if not I am Shelby Hadley (I attached my bio for a little information on myself). I have replaced Mike Meier as the Minnesota Military OneSource State Consultant. I'm excited to continue the professional relationship Mike began with your office.
As a reminder, Military OneSource provides active-duty, Guard and Reserve service members (regardless of activation status) and their immediate family members with information, referral, and consultation at no cost. These services include non-medical counseling, online resources, educational materials, webinars, newsletters, outreach teams in each state, tax support and many other services. This personalized support is available 24/7 no matter where service members live or serve.
Military OneSource provides specialty consultation services (for example, wounded warrior, special needs, language and document translation, simultaneous interpretation, adult disability, elder care, education, health and wellness coaching, Peer-to-Peer support and financial counseling). Military OneSource offers online and telephonic personalized health coaching to both service members and families. Tailored coaching programs are available for stress management, cardiovascular health and weight management for adults and teens.
Each month I will be sending an e-mail with Military OneSource information based on the emphasis for that month, new services and/or webinars provided by the DOD and myself on a wide range of topics. Please feel free to share with other service providers, service and family members.
I look forward to working together as we serve our military and their families. If you have any questions, please reach out!
Very Respectfully,
Shelby Hadley | Minnesota Military OneSource State Consultant